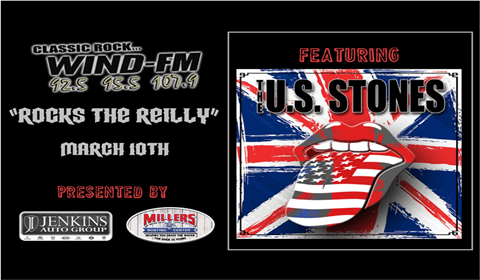 Join WIND-FM as we rewind to the 70's – 80's to see the Rolling Stones in their prime, featuring The U.S. Stones! The
only

Rolling Stones Tribute Band to have a young Mick Jagger clone with all the right moves and signature voice, a Keith Richards that is a "dead on" lookalike, and a Ron Wood who got mobbed for looking like the real deal! This is an 8-piece band with keys, horns, and more-just like the real thing! It's an amazing full sounding Rolling Stones event that will blow you away, hit after hit.
WIND-FM ROCKS THE REILLY!!
Presented by: