Monday – Friday
5am – 10am

LISTEN TO the HUNTER & MICHAELS PODCAST HERE:   http://huntermichaels.podomatic.com/
When Hunter was in grade school, the nuns told the students to come to school dressed as what they wanted to be when they grew up. While fellow students wore suits and lab coats, Hunter wore sunglasses and a radio station t-shirt. The school never had career day again.
Born and raised in Ohio, she escaped and went to college in Virginia Beach because the brochure showed students on the beach. After 4 years of radio there, she moved to Florida and has been with WIND-FM since 1999.
She is a breast cancer survivor (2012) and hopes a cure will be found in her lifetime. She helps raise funds for research and to help with the needs of others battling the disease. Hunter resides with her husband Steve and their dog Benny.
Favorite WIND-FM moment? The day I was hired.
First rock concert? The Monkees
First album: Sesame Street
First 8 Track: The Eagles Greatest Hits Vol. 1
First cassette: Led Zeppelin IV
First CD: Aerosmith "Permanent Vacation"
Email: hunter@windfm.com
Barry Michaels can''t remember a time when he didn''t want to be on the radio. Well, except for that brief time when he either wanted to be a jet pilot or a gunslinger. Over 41 years, Barry has worked in such diverse markets as Miami, Baltimore, Phoenix, Sacramento, Houston, Dallas, and at one time via The ABC Radio Networks. Barry has been recognized with ADDY awards for excellence in broadcast commercial production. Most recently, Barry received an ADDY from the Gainesville Ad Federation for a commercial he wrote and produced about his 1973 VW Bug. Barry''s tireless efforts on behalf of charities across the United States have literally raised hundreds of thousands of dollars. Barry is married and found time to raise four sons. First rock concert?KISS Your best rock and roll moment? Meeting The Eagles. First rock vinyl?Beatles I Want To Hold Your Hand First rock 8-track?Red Fox-The Truckstop Tapes First rock Cassette?Steely Dan First rock CD? Anything I could lift from my current station.
Email Barry: michaels@windfm.com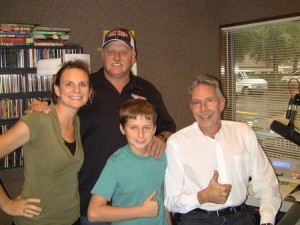 Hunter and Michaels with Grave Digger's Dennis Anderson and his son Weston "Teeny" Anderson.