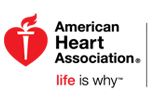 Join Hunter and Michaels at the 2016 Marion County Heart Walk
October 1, 2016, festivities start at 8:00am, walk kicks off at 8:30am
Baseline Road Trailhead Park, 4225 SE 58th Avenue
Why? Did you know that cardiovascular disease is the No. 1 killer of all Americans?
In fact, someone dies from CVD every 39 seconds! Heart disease also kills more women than all forms of cancer combined.
Congenital cardiovascular defects are the most common cause of infant death from birth defects.
Walkers are eligible for a Heart Walk t-shirt once they have raised a minimum of $100.
To sign up visit marionheartwalk.org