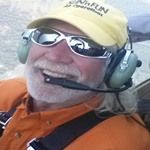 A self made man. Born and raised in Miami. As a child, I wanted to be an astronaut but due to a motocross accident that dream did not happen. I was going nowhere and my mom knew it. Then one day, a comical TV ad offered radio school. My mom said "You are so full of @#% you should get paid to talk for a living." Off to school and the rest was history. Started at The Miami Seaquarium as an announcer and then trainer. After graduation, I was flying for Metro Traffic and worked for a small AM station. I floated from coast to coast, working in California and Florida. I lost everything in Hurricane Andrew and moved to North Central Florida. Radio has given me so much in 30 years. I am truly blessed. Love your work and you'll never work a day in your life. Why work, when you can be a disc jockey. Thanks to Rock and Roll and all the great people along the way.
First concert: Alice Cooper
Best rock moment: Partying with Tommy Lee and the Crue in LA.
First Album: The Beatles