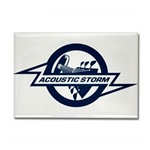 The Acoustic Storm features the best variety of acoustic-based rock. With an emphasis on acoustic guitar-driven songs, Jeff Parets presents the full spectrum of acoustic rock, including rarely heard "unplugged" versions of classic tunes in their purest form.
Each week, the show spotlights an artist in "The Eye of The Acoustic Storm" with music, bio information and sound bites.
The Acoustic Storm is on WIND-FM Sunday from 8 pm to 11 pm.
For more information, visit http://www.acousticstorm.com/